There are 13 days till Halloween, to countdown we are going to read a fun/spooky Halloween book every night till Halloween.  Then on Halloween from mom and dad, the kiddo with get a new Halloween book.  Eventually I hope to build up our collection of fun Halloween books, but for now a lot of these I just checked out from the library.
In no particular order our 13 books of Halloween:
 The Hallo-wiener by Dav Pilkey
My Monster Mama Loves Me So by Laura Leuck. Illustrated by Mark Buehner
The House that Drac Built by Judy Sierra. Illustrated by Will Hillenbrand
Pumpkin Hill by Elizabeth Spurr.  Illustrated by Whitney Martin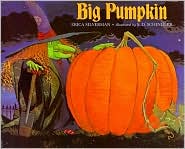 Big Pumpkin by  Erica Silverman.  Illustrated by S.D. Schindler
The Little Old Lady Who Was Not Afraid of Anything by Linda Williams.  Illustrated by Megan Lloyd
The Runaway Pumpkin by Kevin Lewis.  Illustrated by S.D. Schindler
Skippyjon Jones in Mummy Trouble by Judy Schachner
The Widow's Broom by Chris Van Allsburg
Piggie Pie! by Margie Palatini.  Illustrated by Howard Fine
A Very Brave Witch by Allison McGhee.  Illustrated by Harry Bliss
Skeleton Hiccups by Margery Cuyler.  Illustrated by S.D. Schindler
Room on the Broom by Julia Donaldson.  Illustrated by Axel Scheffler
(As I've told you before this is the Little One's favorite!  I think we will get her this one on Halloween, but Sam's Club had these really fun scratch and sniff Halloween books.  We might just have to get both!)
And if you are looking for a somewhat spooky (I'm not a big fan of super spooky ghost books, so it's a fun sort of spooky, trust me) books I would HIGHLY recommend:
The Graveyard Book by Neil Gaiman
2009 Newberry Medal Winner
Nobody Owens, known to his friends as Bod, is a normal boy.
He would be completely normal if he didn't live in a sprawling graveyard, being raised and educated by ghosts, with a solitary guardian who belongs to neither the world of the living nor of the dead.
There are dangers and adventures in the graveyard for a boy-an ancient Indigo Man beneath the hill, a gateway to a desert leading to an abandoned city of ghouls, the strange and terrible menace of the Sleer.
But if Bod leaves the graveyard, then he will come under attack from the man Jack—who has already killed Bod's family. . . .
Beloved master storyteller Neil Gaiman returns with a luminous new novel for the audience that embraced his New York Times bestselling modern classic Coraline. Magical, terrifying, and filled with breathtaking adventures, the graveyard book is sure to enthrall readers of all ages.   (Harper Collins Book Summary)
Hope you enjoy some spooky fun reading!  I would LOVE to know what YOUR favorite Halloween/Fall books are!